When I pulled up my computer yesterday, this picture was on the desktop.
It took my breath away.
He was so beautiful. So perfect. So handsome. So ALIVE.
I love every detail of his perfect little face - his tiny ears, his expressive eyes, his little nose, his tufts of hair, his precious smile, his perfect cheeks. My favorite. I could sit and stare at this picture all day long.
Yesterday marked 10 months since he left our earthly home & returned to his heavenly one. In two months, on March 26th, we will ______ (recognize, honor, celebrate?) his one year angelversary. As I mentioned when I blogged about his birthday, we have felt some ideas about how to do this.
You might also remember when I blogged about The Message, how this paragraph struck my heart:
Randy looked at me with a smile. "In most cases, Lance, when you pray to God for help, it is your dead relatives and loved ones who are sent by God to help you in answer to your prayers. Thus we weld links and bonds of love within the family forever. The family is the central and eternal unit of our society...And so, those relatives of yours who have lived righteous lives can be used as ministering servants, by God, to assist His children who are still in mortality. We serve you, and you serve us. It is the mode of heaven."
(underlines added)
This touched me powerfully (and still does). I felt the spirit witnessing the truth of it - and I felt Link telling me, in a sense, "Mom - this is it! This was my mission on earth and it is now my mission on the other side. I am here to help Link our family together with an eternal chain. Please help me do this."
And, so... I began to wonder... it says that our dead relatives serve us. I know this is true and I think it will amaze us when we die and find out just how much they help us - every day - in every conceivable way. Through thoughts, feelings, impressions, protection, and direction. I am so thankful for their help - for Link's help - every day. Now... how can we serve them? How can I serve Link? That was my question.
So - I have thought about it & prayed about it & have come up with some ideas. We would love if you would help us serve & honor our loved ones (and Link) in the next couple months. Here's how:
1. LINK our families together. This is the first & foremost thing that helps our deceased relatives & the #1 thing that I feel like Link is telling us to do. How do we do this? Temple work! If you have questions about temples, go here. The bottom line is that we believe that families can be together forever & this happens through ordinances and sealings here on earth, in our holy temples. So - the first goal is to go to the temple for yourself. I was able to witness this blessing & miracle for my mother-in-law this past year & it was absolutely wonderful. I know Link was SO proud of his grandma for taking this step and many of us felt him close.
Second, our deceased relatives have work to be done & this is how we can serve them! I will admit that the words "family history" have always kind of brought on a yawn for me. In addition, I wasn't sure how to start & I knew my grandma had done so much already that I really didn't think it was necessary for me to get involved. I was wrong on so many levels! Family history is EXCITING! Talk to anyone who has done it & they will tell you the same! There is a true energy when you start looking back and seeing the names of your ancestors & especially finding out their stories. I LOVE the stories! And now, it's sooooo easy to do. Here's where you go to get started - https://familysearch.org/. Once you log in with your church membership info, it's SO easy to see your family tree, and when you click on "Temple" & see what work still needs to be done. Then you reserve it, print it and GO! I've always loved going to the temple, but taking a family name through is honestly a whole new experience - a whole new level. A couple weeks ago, I took my great aunt's name through the temple. Awesome. Amazing. Wonderful. A month or so before that I witnessed the sealing work for Jason's grandparents. Tears fell as I could almost hear the "links" coming together in this eternal family chain. It was...wow. This is how I know I am helping & honoring my son.
SO - for the past 8 months or so, we've gotten more into family history & taken names through the temple. I have been keeping track of the names. We are going to go as much as possible from now until March 26th. If you would like to help honor Link on his angelversary, PLEASE send me the family name that you took through the temple. On March 26th, we are planning on going through the temple and then bringing all the names to his bench at the cemetery to show how we have helped "Link" families together. This, even more than supporting the Ronald McDonald House, makes me feel like I am helping Link. Serving him. Honoring him. Expressing my love for him.
2. Mend any "broken Links" in your existing family. I can only imagine how sorrowful it makes our deceased ancestors when they see family chains being broken. Divorce. Estrangement. Pride. Call that brother or sister you've had an argument with. Write your parents a letter. Work on strengthening the relationship with your spouse and your children. I know it's hard sometimes, but just as it brings our dead loved ones sorrow when they see the broken links, imagine their joy when disagreements and pride are overcome and the links come back together.
3. Link pictures and stories to https://familysearch.org/. I mentioned that I thought all the family history work on my mom's side was pretty much done. I've since realized that family history work is NEVER done! In fact, we decided the first Family Home Evening of every month is going to be dedicated to family history- and it will never be done! On the family search website, you can post pictures of loved ones that have died. You can share memories and stories. You can look at pictures and read stories that others have posted. It's awesome! The stories and pictures are priceless. I found out as I looked at my family history that my Grandpa's brother died as a toddler - before he was born. I looked at the picture of this boy that had died and couldn't stop the tears. I have felt this mother (my great-grandmother's) pain at losing her young son. I have shared that with her. Maybe she has sent me specific comfort that I have needed to get through this time. I wouldn't doubt it. I am so thankful for her and all the relatives & their sacrifices and their amazing stories. I am hoping to post Link's story & some more pictures as well as add some memories of my grandmas.
4. QR code headstones. My sweet friend, Molly, who lost her daughter almost six years ago, wrote a post about adding QR codes to headstones. It's great! I still need to get one for Link - I'd also like to find a way to get one for my dad's parents, my aunt, and my Grandpa Tew. You just scan the QR on the headstone & it takesyou right to a page all about that person. So - instead of just seeing a name cut in stone, you get to see lots of pictures, stories, etc about that person. Awesome, right?
5. Write a letter to a loved one - dead or living. Strengthen those links. Mend those links. If you write a letter to a deceased family member, I promise you they will know. They will feel your words and you will feel more connected to them.
6. Family History Book for kids! My mom gave my children the most amazing gift a couple years ago. I blogged about it here. She asked us to get the life stories from Jason's side of the family - him, his mom & dad, his grandparents & great-grandparents & then she compiled his side and my side into one book for each child. It is AWESOME! We read it for FHE sometimes. And not only have my children learned a lot about their parents, grandparents, and great-grandparents, I have learned a lot, too! And some of these life stories are the first time they've actually written them down, so it's pretty awesome. Sharing these stories with my children strengthens those links between the past and future and it warms my heart every time.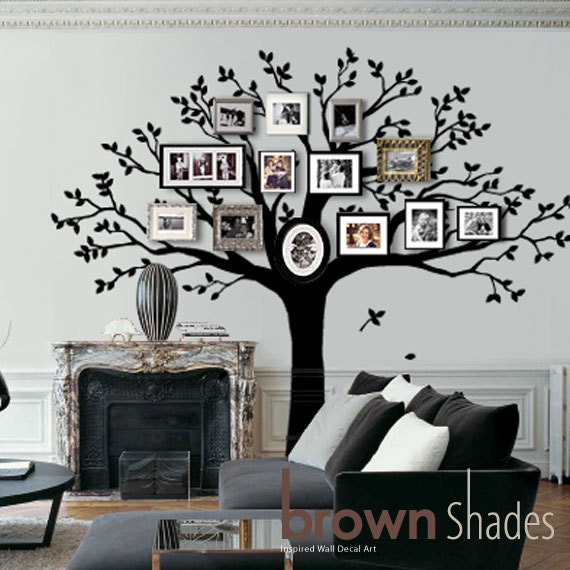 7. Hang pictures of dead loved ones. Of course, I have pictures of Link in every room, but I also have pictures of my grandmas that have died that my girls are named after. I would love to eventually do something like this, but in the mean time, I will print & display what I have. I will mention them often. I will tell their stories. And I will remember them.
8. Share your memories. Not just on familysearch, but you have a friend or family member that died, write down some memories and send it to their closest living relative. I PROMISE they will love you for it. I am so thankful for every person that has sent me a memory of Link. It is an absolute treasure. After Link died, I thought a lot about a friend in high school that had died. I was with him the day he died. We were hiking. He fell. It was obviously a traumatic experience. I remember going to see his family afterwards. We raised some money to help with the funeral costs. But that was it. I was a teenager and I didn't feel his family's grief as I should have. I was not as compassionate as I should have been. I did always remember the date of his death, though, and sent his parents a letter around the anniversary last year. I apologized for being insensitive. I shared memories. They wrote back and were so sweet. They appreciated me sharing memories and gave me some wonderful advice. It's never too late to write to someone & share memories.
9. Visit the hometown of your ancestors. We can't wait to take our trip to Ireland/Scotland and walk the streets our grandparents walked. But there are some areas closer to home that connect us with our ancestors, too. We've read some of Jason's ancestor's journals & one of them helped settle the Park City area. He talked about helping Mr. Snyder. We lived in Park City at the time and the name "Snyder" was everywhere. We would think of him and remember his stories everywhere we went.
Me & Grandma Potts
10. Record the histories of your relatives. You never know when someone will die, but my parents have done a wonderful job of making sure their parents' histories are documented. I love to read the stories, but my favorite is to sit down and watch the video of my Grandma Potts as she tells her life story. It's not just words on a page, but to watch her little movements, hear her Irish accent, and see her classic dress (she only wore pants one day of her life), apron, and fallen "stockings" (nylons) is so much more precious. It's HER telling her story. I love it. If only I could have found a way to get the smell to come through :) You will NEVER regret taking the time to do this.
PLEASE let me know if you do any of these things for his angelversary. It will mean the world to me. In the next 2 months, we are going to try to take as many names as possible through the temple. I am going to tell him all about it. I appreciate your help SO much & I know he does, too! And I hope that as you do this, you will feel the "Links" in your family chain get stronger, and as they do, amazing things happen! THANK YOU!